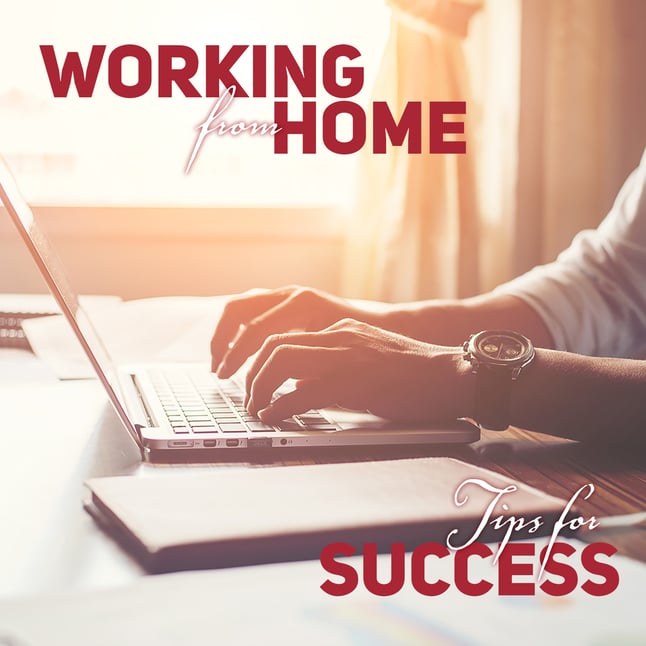 This is Part 2 of our tips for successfully working from home. If you missed Part 1, it's a great time to get caught up!
Plan virtual coffee chats (or happy hours) with colleagues.
When you work outside of the office, it can be hard to get that valuable visibility that could move your career forward. Because your team will be bonding during informal office chats, outings, lunches, coffees, or events that you won't be able to attend, it's important to come up with creative ways to get to know your colleagues and improve key relationships with team managers. As a remote employee, it's easy to be out of sight and out of mind. Setting up regular one-on-one meetings with every member of your team on a weekly, bi-weekly, or monthly basis is a great way to stay connected.
Capitalize on any opportunity to connect with colleagues -- use team meetings, one-on-one meetings, or impromptu video calls to work through problems. You want to use every opportunity to make up for the lack of in-office interactions that typically build rapport.
You don't necessarily have to use the virtual coffee time to talk about work. Instead, you could use that time to learn more about your coworkers or managers. Building these relationships can help you create more meaningful relationships with colleagues who are farther away. These chats will also help you learn more about how your team works together in the office.
Create an efficient working space.
Working in your bed or kitchen could make you want to sleep, cook, or clean when you're on the clock. Meanwhile, a noisy space in your home might open you up to distractions. If you want to get serious about working from home, you'll ideally want to have an effective office or quiet workspace that has a designated work surface, great lighting, internet, and limited distraction points. Try to designate a space in your home exclusively for work. That way, you can keep your work and home life as separate as possible.
Work outside of your house.
(NOTE: this doesn't apply if there are quarantines in place!)
Sometimes, your house can still be the most distracting place to work, even if you've created a solid workspace. On top of the distracting environment, associating your home with work all the time might not be so great for your mental health. For example, a recent Buffer survey found that 22% of remote employees have trouble tuning out at the end of the workday.
Difficulty tuning out of work might mean you miss out on happenings in your personal life or feel stressed about your job or a deadline even when the workday is over. If you've tested out a number of home workspaces and find that your house or apartment isn't a great place for getting tasks done, consider going to another location -- like a coffee shop, library, or shared working space.
Prepare for video calls.
As a remote employee, regular video chats will most likely be part of your role. So, make sure your working space is properly lit and offers a professional, non-distracting background. While it might be tempting to keep your camera off and avoid showing your surroundings to your team, attending a video call with the camera turned on is important for interpersonal communication and office visibility. Ninety-three percent of communication is non-verbal. Being remote puts you at a disadvantage when it comes to reading facial expressions and body language during meetings. Video calls mitigate the disconnect that can arise from not being in-person.
Don't forget to take breaks.
At a normal nine-to-five job in an office, you'll usually take one or two breaks throughout the day as well as lunch. But, when you're at home and focused on a big project, time can slip away from you and you might forget to take a much-needed breather. That's why you might want to schedule breaks on your calendar. Since you miss out on the social cues to head out for lunch or end the workday that are inherent in in-office settings, you have to create them. Set calendar appointments for lunch or a walk or a midday workout. Otherwise, you might find yourself sitting in front of your computer for 10+ hours a day.
All in all, remote working is not a bad way to go, it just takes a little extra planning and forethought. Whether you find yourself temporarily remote, or permanently so, you can survive and thrive in the remote working world.